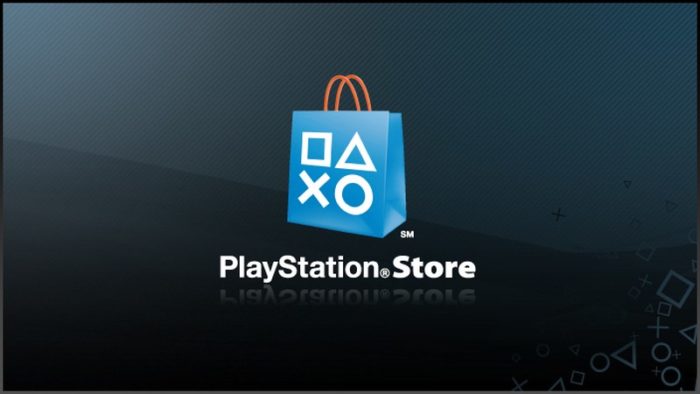 Due to the launch of the Playstation 5, Sony is completely revamping its online store, the Playstation Store. As of October 21, 2020, it will not be possible to access content from the company's older platforms, through the computer with browsers and smartphones. Understand what the end of the Playstation Store for PS3, PS Vita and PSP means.
What to do before selling your PlayStation 4?
PlayStation 4 vs PS5; what changes on the Sony console?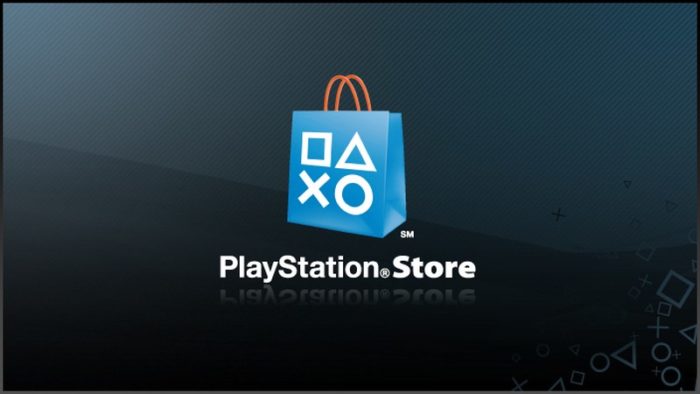 Logo Playstation Store PS3 (Image: Playback/Sony)
The end of the Playstation Store on PS3, PS Vita and PSP
When reading that it will not be possible to access content from older Sony platforms, such as the PS3 warrior and its portable brothers, the first thing what a lot of people thought was: "I won't be able to play online and buy content for these consoles anymore".
It's not quite like that, calm down guys. The picture is not serious at this point. We will still be able to access all content related to old consoles.
According to an email sent by Sony to Playstation Network users, it will be possible to access and purchase content such as games and expansions for old consoles (PS3, PS Vita and PSP), through the native versions of the Playstation Store, available on these devices, after the change implementation period, between October 21st and 28th.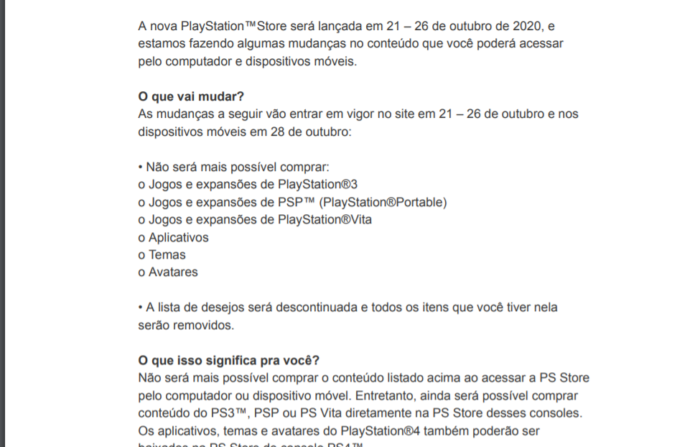 Sony email about PS Store (Image: Sony/Reproduction)
Will I lose my games with the PS Store gone on PS3 and handhelds?
No. Rest assured, everything you purchased on these consoles will continue to be available to be accessed and downloaded normally from the Playstation Store on each device.
Changes for Playstation 4
Games and expansions to the Playstation 4 will continue to be accessed via the web and smartphones. However, themes, apps and avatars will only be seen on the PS4 version of the Playstation Store.
The Playstation 4 wishlist function will also be discontinued and all items you have placed there will be deleted. I consider this a shame, as the wish list was an interesting function to keep track of promotions for games that were on the radar. Let's wait and see if Sony implements a feature that replaces this in the new PS Store.
Is it worth having or buying one of these consoles after these changes?
It depends. There are a few variables here:
If you already own one of these consoles, nothing relevant will change for you, so there's no need to get rid of the console.
If you're a collector, I believe you will too. it won't make much difference. After all, collectors care about having the device working and that won't change.
Now, for people who want to buy a console to play games, I believe it's better to buy a Playstation 4. The console has a wide variety of games will still be supported for a good few years and most games have active online support.
Will I be able to continue playing online on old consoles?
In principle yes, because Sony did not report anything about excluding these platforms from accessing their servers. However, it is worth remembering that online matches are related to the servers of each company/game, so because they are old games, many have already had their online services closed.
Anyway, there is no reason to despair, because the only thing that will change at this moment is the slightly more restricted way of accessing the Playstation Store content.
Let's take advantage of the fact that we were reminded of the existence of PS3, PS Vita, PSP and put the backlog to work .
With information: Game Informer