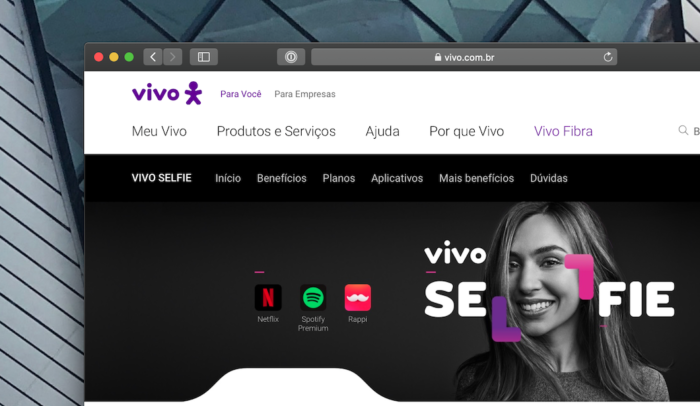 Vivo has started marketing the postpaid Vivo Selfie: the new plans include Netflix subscription, Rappi Prime or Spotify Premium, in addition to 25 GB of internet and 25 GB of exclusive allowance for these services, costing up to R$164.99 per month. Customers will have WhatsApp without discounting the package, in addition to unlimited international roaming days in the Americas. We compared the new offers with the plans sold by Claro, TIM and Oi.
Vivo TV extends open signal for news and children's channels
Vivo Easy Prime is launched with payment monthly fee and expired internet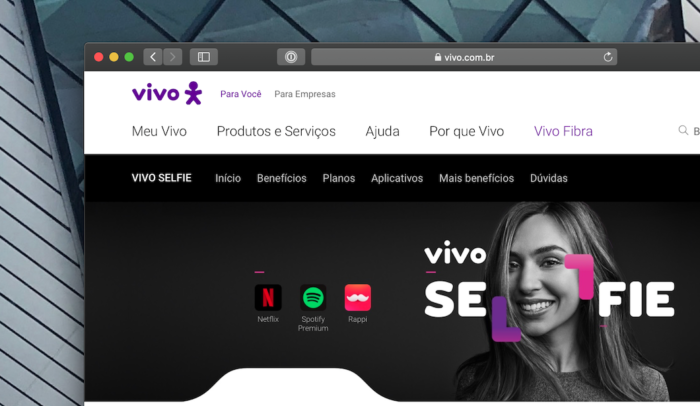 These are Vivo Selfie plans:
Plan
Subscription included
Internet Franchise
Price
Vivo Selfie Rappi
Rappi Prime
25 GB of internet
25 GB to use with Rappi
R$ 149.99/ month
Vivo Selfie Spotify
Spotify Premium Individual
25 GB internet
25 GB to use with Spotify
R$ 149.99/month
Vivo Selfie Netflix
Standard Netflix (HD + 2 screens)
25 GB of internet
25 GB to use with Netflix
BRL 164.99/month
All options include unlimited calls and SMS to any operator (including area code), WhatsApp without discounting the franchise a (except video calling) and access to the GoRead, NBA Basic and Hube Newspapers apps. Those who carry out number portability still receive an extra 5 GB per month for a year – this benefit also applies to current customers, as provided by Anatel and by regulation of the plan itself.
In addition, the packages include unlimited international roaming daily in the countries of the Americas, which yields from 500 MB to 1 GB per day in visited countries, unlimited incoming calls and 50 minutes of calls made to any operator. According to the regulation, it is possible to add up to 5 additional lines for R$ 89.90 per month per chip, sharing the internet allowance of the main package and unlimited calls.
A good advantage of Vivo Selfie is that the plan has no loyalty, that is, it can be canceled or changed at any time without charging a fine. The operator usually emphasizes control and postpaid plans with a 12-month fidelity of automatic renewal – that is, if the customer does not cancel on the exact day of the end of the contract, the customer must pay a termination penalty.
Hiring separately, the Rappi Prime subscription costs R$29.90, the individual Spotify Premium costs R$16.90, and the Netflix charges R$32.90 for the standard plan. Vivo includes 25 GB exclusive to use with these services: this is useful for Netflix and Spotify, but it doesn't make any sense with Rappi, which doesn't spend enough internet to require a dedicated data allowance.
Vivo Selfie runs out of 99 and Premiere
As advanced exclusively by Tecnoblog, Vivo had published on its website the table of plans with 99 and Premiere, in addition to the officially announced Spotify, Rappi and Netflix. At the time, 99 contacted us and said they were not aware of this partnership; a short time later, the operator removed mentions of the company.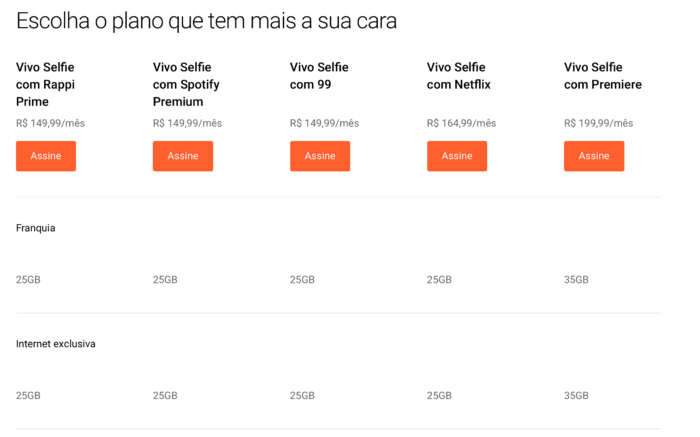 It also makes sense that Premiere is dropped at this first moment: with the coronavirus (COVID-19) pandemic, football championships are suspended. Claro, the largest operator in the pay-TV market, stopped selling Premiere until the return of matches.
The Vivo Selfie Premiere plan would be the most expensive of all, costing R$ 199.99 per month with Premiere Play subscription included – separately, the platform costs R$79.90 per month. It would have 35 GB of internet and outros 35 GB to be used with football streaming.
Is Vivo Selfie worth it?
Compared to Vivo's postpaid service, Vivo Selfie can be more interesting: in addition to the service subscription included, the new offers have a higher data allowance.
Vivo Post with 12-month renewable loyalty with 16 GB of internet costs R$ 129.99 monthly. The version with 30 GB and unlimited daily rates of Vivo Travel Mundo costs R$ 189.99 per month.
Vivo Post with monthly subscription, without loyalty, has 7 GB options (R$ 129.99/ month), 8GB + 8GB for streaming (R$159.99/month) and 12GB + 12GB for streaming (R$219.99/month).
Comparing with other operators, these are the plans available in the range of R$ 149.99:
Claro: Claro Post 10 GB + 10 GB for Netflix, YouTube and Now, unlimited access to social networks, international roaming in 18 countries in the Americas: BRL 139.99 per month (BRL 129.99/month in direct debit)
TIM: TIM Black 12 GB + 12 GB for Netflix, YouTube, Looke, Esporte Interativo and Cartoon Network Now, unlimited access to social networks, Deezer Premium subscription: R$ 139.99 per month in automatic debit
Oi: Oi Post 100 GB, unlimited access to Netflix, YouTube and social networks, 10 GB for roaming in the United States: R$ 129.90 per month s
Values ​​referring to São Paulo (DDD 11); prices vary by region.