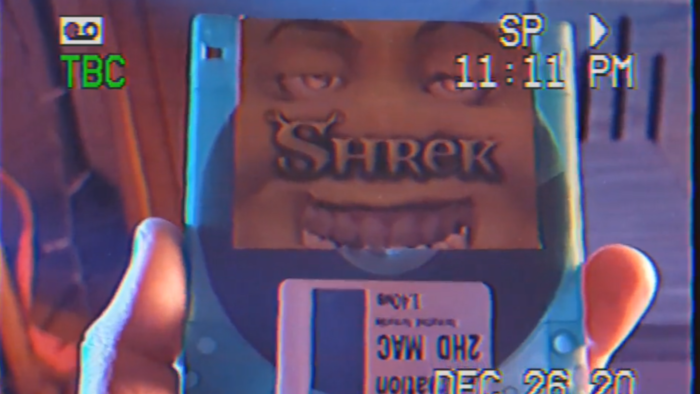 A Reddit user named GreedyPaint and with a lot of free time, or committed to discovering new ways of distributing movies, managed to compress the entire first feature film of Shrek on a floppy disk. The end result is extremely far from acceptable and uses a kind of VCR, created with the famous Raspberry Pi, to run.
Raspberry Pi 4 gets a $5 fan so it doesn't get too hot

Raspberry Pi 4 gets a $5 fan. li>
Raspberry Pi 400 is a keyboard with a built-in computer for $70

Shrek's movie will end up in a 1.44 MB floppy disk (Image: reproduction/Reddit)

You internet kid are used to plenty of space in the cloud, 25GB of a single layer Bluray, or up to 66 GB on these dual layer discs. If your age has higher numbers, you certainly lived in the era of DVDs with 4.7 GB or 9.4 GB, going up to 700 MB of VCD. However, in an even more distant past, the most practical way to transport files was with one or several floppy disks and their generous storage of 1.44 MB – yes, mega and not giga.

In those distant times , films were on cassette tapes and preferably in the VHS standard. For GreedyPaint, a Reddit user, this tape limitation is not acceptable and he was able to use a floppy disk to store 90 minutes of an animated movie by Shrek, the first of all that were produced.

Diskette has Shrek at 96p and 4 frames per second

The feat of putting the feature in so little space starts with creating a custom x265 codec. He is responsible for making Shrek, which can be found in 4K (3,840 x 2,160 pixels), fit into a small file with a resolution of 160 x 96 pixels. Couple that with a rate of four frames per second, and the video drops from a few GB to just 1.37 MB – there's space left on the floppy!

I created a floppy disk VCR that plays full length films (like garbage ) with the help of a Pi and a custom x265 codec. I call it the LimaTek Diskmaster from r/raspberry_pi

The result is garbage (term used by the creator of the feat, in your post), but that at least can be played on old TVs and even has audio for the lines, music and everything else in the movie. An ordinary television would not be able to play this work of computer science, so a kind of VCR was created with Raspberry Pi inside and a floppy drive outside.

As the creator is astute and lover of 80's (we agreed on that, at least in love for the decade of synthesizers), the name given to the cacareco is Diskmaster and the company responsible for its birth won the title of LimaTek. The vintage air is present even in the animation chosen for the system boot, something that did not exist at the time of this type of product – ok, this is a forgivable mistake.

Thinking about a VCR, even for this one video distribution standard the codec kicked the final quality away. VHS tapes recorded in NTSC work with a resolution of 333 x 480 pixels, going to 335 x 576 pixels for tapes in the PAL system, along with 24 frames per second in both cases.

The user certainly used a Small, low quality TV so the 160 x 90 pixels wouldn't look so awful. This resolution is close to the 160 x 144 pixels of Nintendo's Game Boy – the same as the Color version, released a few years later.