Pokémon Unite debuted its own monthly subscription system — the Club Unite. By paying the monthly fee, players receive benefits every month, from exclusive skins, to Pokémon licenses, discounts on skins and gem packs. Payment can be made in the game, both on the Nintendo Switch version and on Android and iPhone (iOS) phones.
How to play Pokémon Unite [Beginners Guide]
How to put Pokémon Unite in Brazilian Portuguese
Monthly subscription systems are increasingly common in free games. Fortnite, for example, offers the Fornite Club, which guarantees an exclusive skin, in addition to V-Bucks, when paying a monthly fee of R$ 38. These systems have recurring charges. and need to be canceled manually, if the player no longer wanted to participate.
Unite Club has R$55 monthly fee
In the case of Club Unite, the price is a little higher — as are almost all microtransactions of Pokémon Unite. You must pay BRL 55 per month to access subscription benefits. Members of the club receive the following prizes:
Two Unite License Trials per week;
Two Holowear Trials per week;
Frame and chat bubble;
10% off new store skins for seven days after launch;
A pack of 40 Aeos gems per day.
In this system debut month, Club Unite members also get the exclusive Fruit Style skin for Greedent, as well as a visual trainer pack inspired by Hoopa.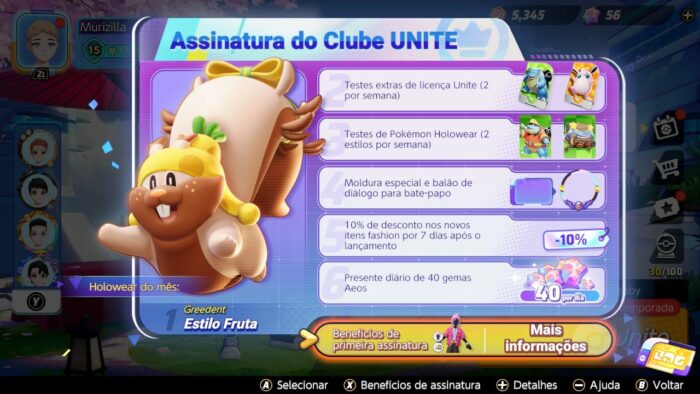 Attention: the Club Unite subscription is only valid for the platform where it was carried out. If you subscribe through Switch, you can only receive system benefits on the Nintendo console. The same goes for the mobile versions of Pokémon Unite.
Pokémon Unite is available for free, with texts and dubbing in Brazilian Portuguese, for Nintendo Switch and Android and iPhone (iOS) phones.