Riot Games confirmed, this Monday (22), the battle pass system in League of Legends: Wild Rift. The Wild Pass will be available in-game from April and will include cosmetic items such as an exclusive skin for champion Jax. Players can upgrade the pass for free, but to redeem the rewards, you must purchase the paid version with WC (Wild Cores) — the game's virtual currency purchased with real money.
You don't need the iPhone 12 to play League of Legends: Wild Rift
We play League of Legends Wild Rift: LoL for mobile and consoles
LoL: Wild Rift will have a battle pass with the skin "Jax Hexplorador" (Image: Publicity/Riot Games)
As in other games that use the system, like Fortnite and Fall Guys, Wild Rift players will be able to upgrade their Battle Pass with the experience they earn at the end of matches. In addition, the game will also have special missions that will guarantee more levels in the battle pass. These additional challenges, however, will be exclusive to Wild Pass Elite, the paid version that costs 400 WC.
The Wild Pass can reach level 50 normally. The final prize is the "Jax Hexplorer" skin, in which the champion receives a futuristic archeologist skin. Anyone who buys the Elite edition of the pass will be able to reach level 65 and redeem another five items.
All Wild Rift players will have access to the Wild Pass for free and will be able to reach the level 50. However, rewards still need to be released by spending real money. For example, even if the user reaches the last level of the pass, he will only be able to redeem the unlocked items and skins if he upgrades to the Wild Pass Elite.
Whoever doesn't want to spend can continue with the free version only. of the pass. In this case, it is only possible to earn Blue Ciscos and Poro Coins, two coins that are also given at the end of the game's matches.
According to Riot Games, the Wild Pass upgrade will cost 400 WC. In the game store it is possible to buy the virtual currency in packs. The cheapest option costs R$ 14.90 and guarantees 500 Wild Cores, enough to improve the pass.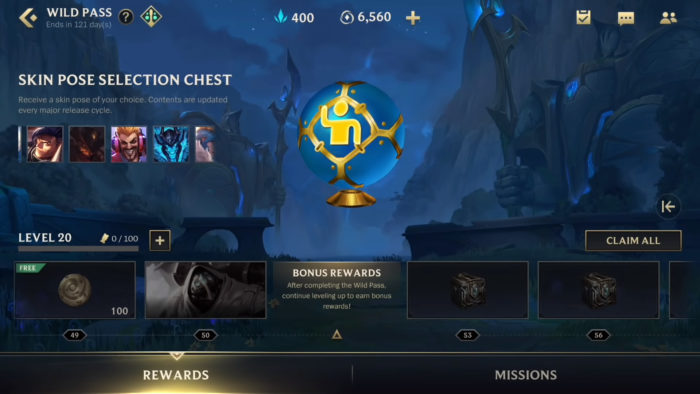 League of Legends Wild Pass : Wild Rift (Image: Publicity/Riot Games)
Launch of Wild Rift in Brazil
Beta testing for League of Legends: Wild Rift will start in Brazil on March 29 on Android and iOS phones. You can now pre-register on the Google Play Store to ensure exclusive items when the game launches.
Playing Wild Rift doesn't require a high-end phone. On Android, the device must have at least 2 GB of RAM, a 1.5 GHz quad-core processor and a Mali-T860 GPU. On iOS, 1 GB of RAM, 1.4 GHz dual-core chip and PowerVR GX6450 graphics are required.
With information: DotEsports.