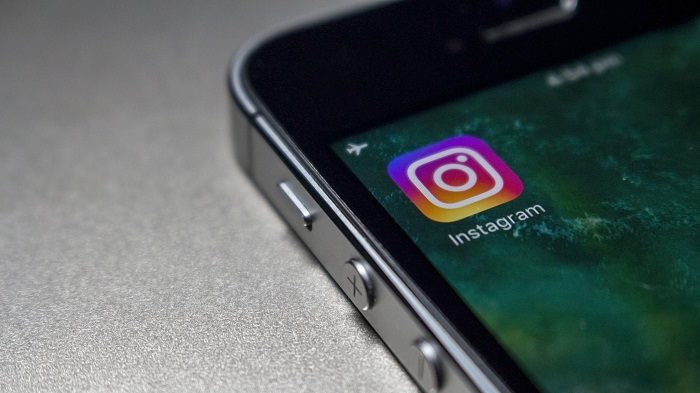 Any Instagram user who has a business or content creator account can access a series of metrics about their posts and audience for free . For those who were curious and want to know where and how to see this data, called Instagram Insights, we explain below how to access this information and how to use it to your advantage to improve your account on the platform.
How to schedule stories on Instagram [Computer and mobile]
How to make Reels on Instagram with a ready-made video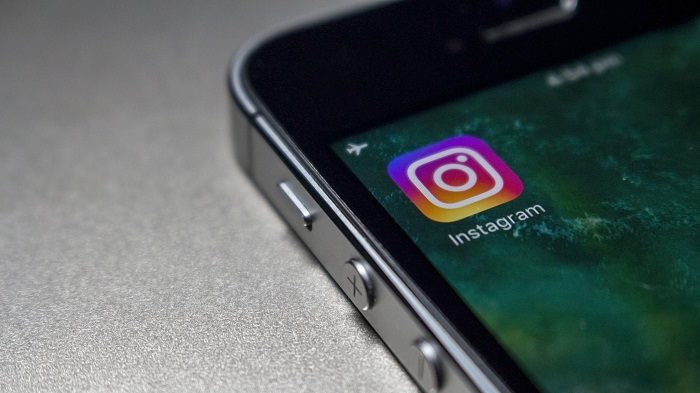 Time required: 2 minutes.
Instagram Insights are a series of information and metrics about your posts and the type of audience that follows you on the platform. They can only be viewed by the mobile app and show how you are performing on the social network within a selected period of time. Here's how to find your insights:
Go to profile

On mobile, access your account (login with username and password if you haven't already) and tap your profile in the bottom right corner.

Find Insights in the menu

Once you are in the profile tab, click on the menu, the three-line icon in the upper right corner of the screen. Then select "Insights".

Browse the desired category

By clicking Insights will take you to a page with a summary of your statistics. Called the "Insights Overview", it has a drop-down menu at the top, showing the date to which that information corresponds. By tapping on this menu you can change this period of time, analyzing the last seven, fourteen, thirty or ninety days.
Once this coverage range is defined, Along the screen you have access to the following metrics: Accounts Reached, Interactions with Content, Total Follows and, finally, information about the content you shared in Feed, Stories, Reels, IGTV, Lives and Ads. By clicking on each of these metrics, you have access to a more detailed page on the subject, with a complete report on its numbers and reach.
This data is important for you to understand who your audience is. , how is your performance on Instagram, which trends are on the rise and generate more engagement and other various points that help in the improvement and growth of your account.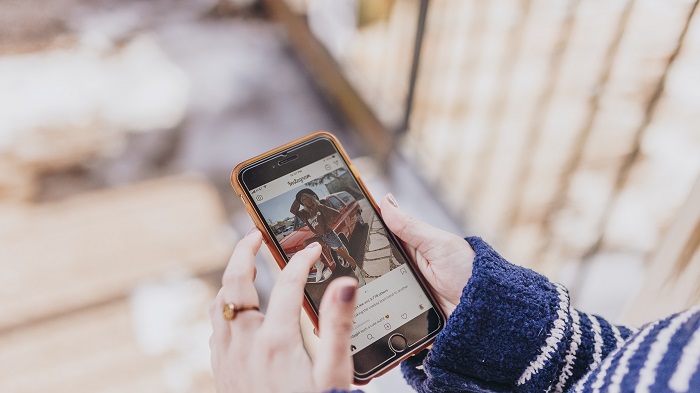 What the Insights data mean
Before clicking on each of these contents and seeing their detailed information, notice that in the general panel you already have access to a lot of data Important: The percentage of interactions you received compared to the same period before. This means that in an analysis taken from August 16th to 22nd (seven days), you can see how much your overall interactions have increased or decreased compared to August 9th to 15th (seven days prior).
In addition, in front of each of the metrics on the screen, the value of that specific percentage for that subject is also visible. A way to see your overall performance on each of these items.
Understood all these points, it is now possible to analyze each of the metrics provided in Instagram Insights.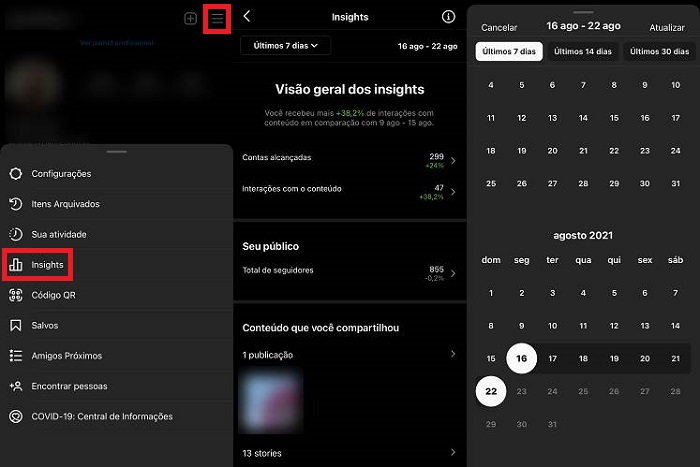 Accounts Reached
The first clickable metric in this list, Accounts Reached, takes you to a page with information about users who have seen your posts on set period of time.
At the top, you have access to the total number of accounts reached. And, just below, a pie chart that shows the general percentage of followers and non-followers of that audience, and a bar chart that shows this division in relation to each of the content that it produced (Feed, Stories, Reels, etc).
Still on this screen, you can see which were your most relevant posts for the period (based on the reach they had), the total impressions and visits to your profile, and the number of touches you got on your buttons (buttons that connect your account to other online services).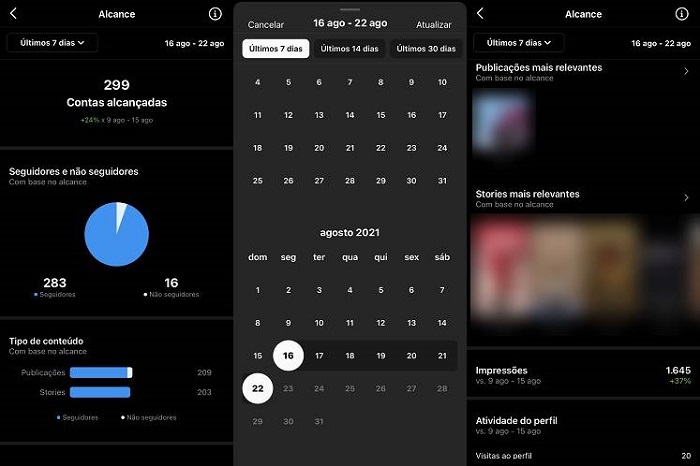 Interactions with Content
At the top of Content Interactions, it is possible, again, to visualize the total amount of interactions that you had in the selected period. And, just below, how these interactions are divided into each of their content types.
In Feed posts, for example, you can see how many of these interactions were liked, how many were comments and which were the your most relevant posts based on likes. The same goes for the Stories metric, which shows the number of responses and reactions received, and which were the most relevant Stories based on the responses sent.
Your Audience / Total Followers
In Total Followers, at the top center of the page, is the number of followers you have on your account. Below, you can see data about your growth on the platform, such as how many followers you gained in the selected period and how many you lost.
A bar graph provides important information about your audience, such as the main cities in which live and what is their age group (total or divided between men and women). In addition, a pie chart shows how many of your followers are male and how many are female, and a column chart shows which days and times they are most active on the network.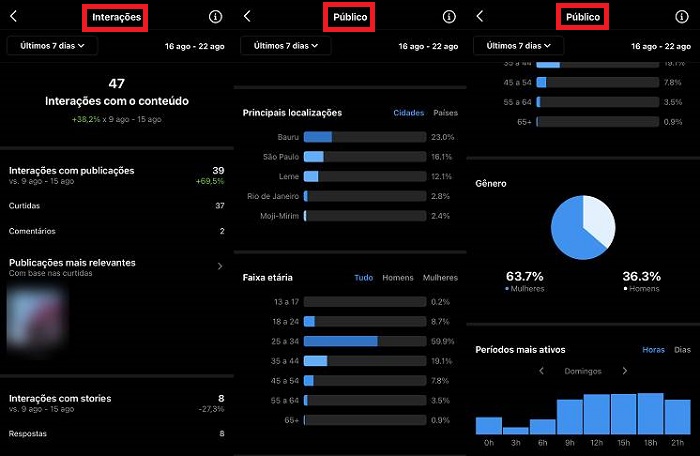 Content You've Shared
In addition to all these statistics, Instagram even allows you to see all the individual Insights of the content you've shared in a given period.
To analyze Insights of Feed, for example, you can select the type of post you want to see (general; photos; videos or carousel post), which metric you want to use (reach; comments; shares; likes; impressions; interactions with posts; saves ; followers or action button taps) and the period to be analyzed (seven days; thirty days; three months; six months; a year or two years).
Your posts appear in descending order according to these filters. Or, if they are sorted by the most recent publications, they appear in the order posted, but with the number of the chosen metric.
Stories Insights work in the same way, with the difference that here the chosen metric concerns within the scope of publication. Meanwhile, for Reels, we have Video Plays metrics; on IGTV, reach metrics; and, in Lives, metrics on audience responsiveness.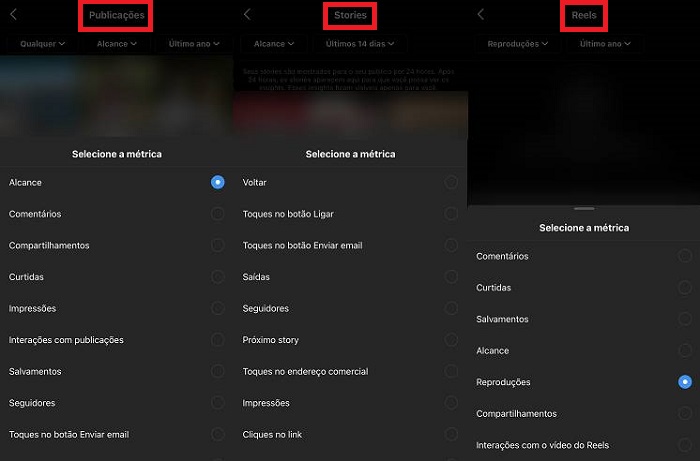 Tips to find out more
It's normal to get lost with so much data to analyze, but if at any point in doubt about the purpose of a particular Insight, botho In the Overview area and detailed metrics pages, there is an "i" icon in the upper right corner of the screen. By tapping on it, you can access a summary of the functions of each area, which can be useful at a time when you need to see a specific piece of data and don't remember how to find it.
Furthermore, in day by day, you can follow the statistics about your posts directly through them, without having to click on the Insights area of ​​Instagram.
To do this, in the Feed photos, click on "View Insights", where you will have access the main interactions of the image. The same goes for Stories (and all other types of publications) that have their Insights revealed in the graphic icon.
*The images, step by step and explanations of how to see the Insights of Instagram were made on 8/23/2021.
With information: Facebook Business