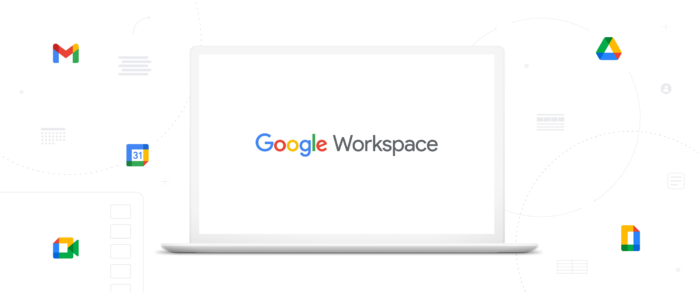 G Suite has become Google Workspace. Announced by the company on Tuesday (6), the Google office suite that comprises Gmail, Google Calendar, Drive, Docs, among others, now has a new name and changes to the corporate service. The news will be available to users in the coming weeks.
How to be more productive using G Suite [Google Apps]
Gmail, Google Calendar, Docs, Drive and Meet win new icons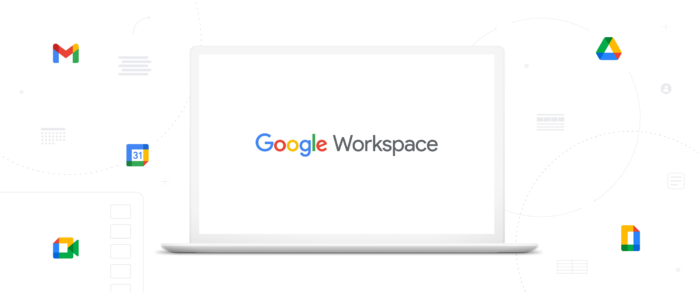 "Google Workspace includes all the productivity apps you know and love," they announce. "Whether you're heading back to the office, working from home, on the front lines with your mobile device, or connecting with customers, Google Workspace is the best way to create, communicate and collaborate."
In addition to brand new, the move even brings improvements to the office suite. Now, the service has become more integrated and has gained a function that allows you to tag co-workers with an "@" in documents, for example. You will also be able to preview Google Docs files by simply clicking on the document link.
According to current G Suite subscribers, Google "you will see the new name and icons reflected in our products and properties. over the next few weeks."
Google Workspace brings changes to plans
Google has changed the organization of plans for its office suite. Now, the Basic plan has given way to Business Starter on Google Workspace while the Business plan has given space for two more subscription options: Business Standard and Business Plus. The Enterprise modality remains in the catalog.
Unlimited cloud storage or up to 1 TB per user, if there are up to five registered accounts, of the Business plan, however, has gone. Now, when subscribing, you will have to choose the options of 2 TB (Business Standard) or 5 TB (Business Plus) per user.
Google Meet also has some differences between the packages: while the plan Starter limits conferences to 100 participants, the Standard package raises this number to 150 and allows recording. Plus, on the other hand, accepts up to 250 people in a conversation through the service, also with recordings and participation control.
Noise cancellation and live streaming on the domain were for the Enterprise plan, which supports up to 250 participants in a call. Finally, Vault and endpoint management are only present in Business Plus, which costs BRL 81 per month, and in Enterprise, which has "all the storage you need".
Google still provides 14 days to test the service for free. In addition, Business Starter and Business Standard are available with promotional values ​​for a limited time: BRL 24.30 and BRL 48.60, respectively. For Enterprise pricing, you must contact Google's sales team.
"As a G Suite Basic, Business, or Enterprise customer, you can be confident that we will provide the time and the support needed to transition to one of these new offerings," they say. "Look for an email to the primary admin on your domain that will arrive by Friday, October 16th. This email will describe the specific impact to your organization and who to contact for more information."
Still according to Google, the suite's availability for education and nonprofits will remain. "G Suite Essentials will now be called Google Workspace Essentials," they explain. "There are no additional changes to Essentials at this time."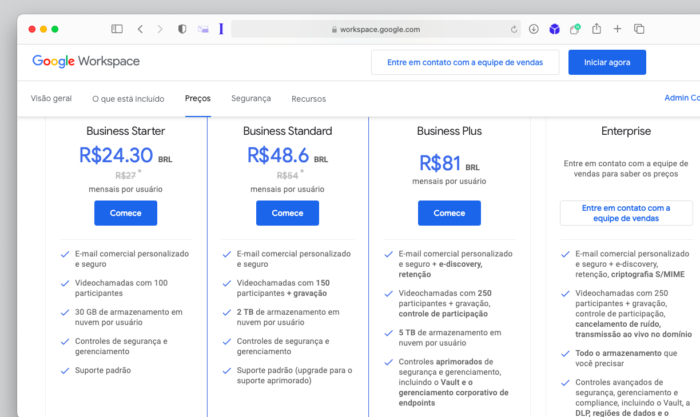 Google Workspace Plans (Image: Reproduction/Tecnoblog)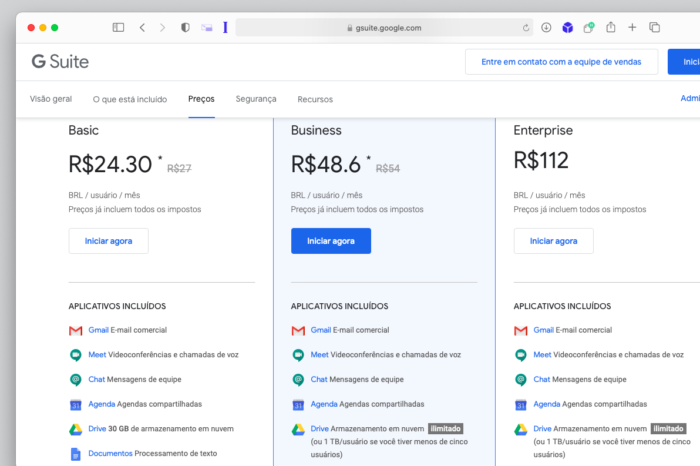 G Suite plans (Image: Reproduction/Tecnoblog)