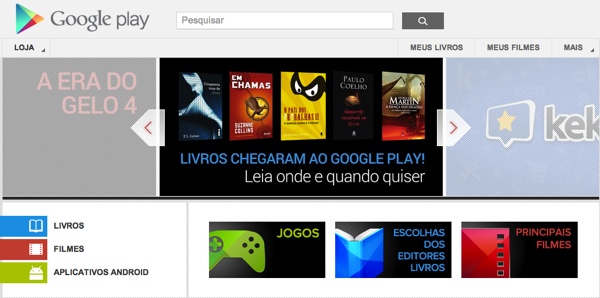 The day has come. Finally, Google looked kindly to Brazil and decided to release this morning the sale of books and movies for the Brazilian market on the Play Store, Android's digital content store. A very strategic date: Amazon has just opened its website for selling content for the Kindle, and Livraria Cultura announced today the launch of Kobo, an ebook reader.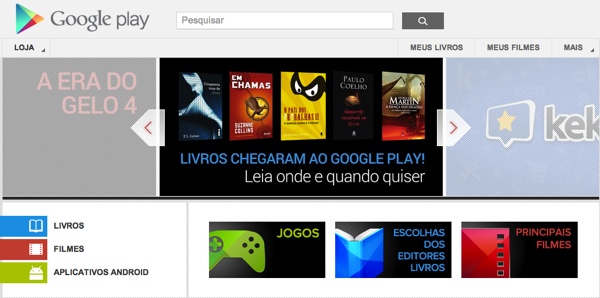 At first, the catalog is not bad. In terms of books, the bestsellers, such as the saga of the fifty shades, are featured on the store's cover, as well as works by Father Marcelo Rossi and writer Paulo Coelho. Prices vary: "Fifty shades of grey", for example, costs R$ 24.90, a price not very different from the work on paper. In the Amazon store, the same title costs R$ 21.50.
The collection of films is relatively small: I have not yet seen Brazilian films in the store: "Tropa de Elite", "Carandiru", "If I were you" and "O Palhaço" were the first national films that came to my mind and are not available. The store works on a buy and rent model, but not necessarily all movies can be rented. Also, HD content is more expensive.



It's not expensive to rent: for R$ 3.90 you can watch "Ice Age 3" as many times as you want in a period of 2 days. If you want the latest version of the movie ("Ice Age 4"), the rent is R$6.90. There are also films that can only be purchased: this is the case of the excellent "O Turista", which costs R$ 19.90 and does not have a high definition version.
Whoever has a smartphone or tablet with Android can access the Play Store that the content is now available. In addition, the content is available for purchase or rent on the website. iOS users can download the Google Play Books app and read from there same.
It is possible to read the books purchased through the Play Store website, directly in the browser. Play Store books are not compatible with Kindle, Amazon's ebook reader. Anyway, some books may be available in ePub or PDF format, which can make the reader's life easier.
The arrival of books and movies leaves a question in the air: what about the sale of music? Brazil has had the iTunes Store for a long time and music services such as Rdio and Xbox Music are working at full speed in the country. I do not believe that the sale of music takes time to arrive here, and that it is just bureaucratic issues that prevent the start of the operation.