Google announced this Tuesday (25) that it has added prehistoric animals within Arts and Culture, which uses augmented reality to make three-dimensional projections on the screen of a smartphone or tablet directly from the search engine result. The novelty recreates the animals with the help of studies from partner museums in London and even Moscow.
Google measures social distancing using augmented reality
Google makes new breakthrough in augmented reality of Android
That Google uses augmented reality in the Arts and Culture project to display animals straight from the results of search engine on the screens of compatible gadgets, we all already know. Now the search giant decided to evolve its project and added animals that are no longer alive, the bones of the largest creature on planet Earth and even other items that are important for any user to know, but are not alive.
p>The new 3D projections are curated in partnership with museums such as the Darwin Museum in Moscow and the Natural History Museum in London. With the update, prehistoric animals such as cambropachycope can be projected in real size or not, as well as aegirocassis, which lived in the sea 480 million years ago.
More than animals on Google in augmented reality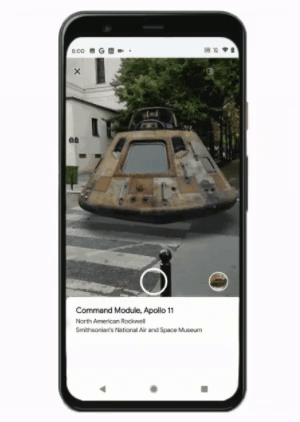 Along with the new beings, Arts and Culture added other items such as Lanzón, a statue that was found in the Andes of Peru and dates from pre-Inca times. One of the Apollo 11 modules that took the first humans to the Moon, Neil Armstrong's lunar spacesuit and even a self-portrait by Mexican painter Frida Kahlo from 1937 make the list of works and items that can be enjoyed with augmented reality, in 3D. .
The addition of these three-dimensional objects is important in a time of pandemic caused by COVID-19, with museums closed and works that are behind their doors. The user can have more details of each one within the Arts and Culture application, or design each one of the items from the results of the search made directly by Google.
With information: Google.