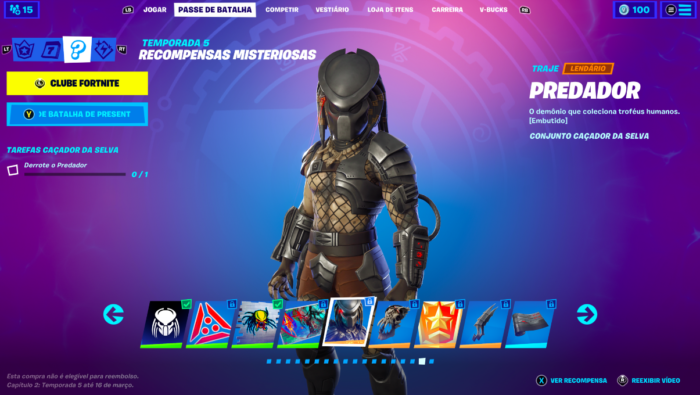 Whoever bought the current Fortnite Battle Pass can now try to get the Predator, famous movie character, who is available in special missions. In addition, the game may soon have costumes inspired by Lara Croft, from Tomb Raider, and the Terminator.
Fortnite will have Pele Championship and emote of player
LoL, Fortnite, Valorant and GTA 5 dominated Twitch in 2020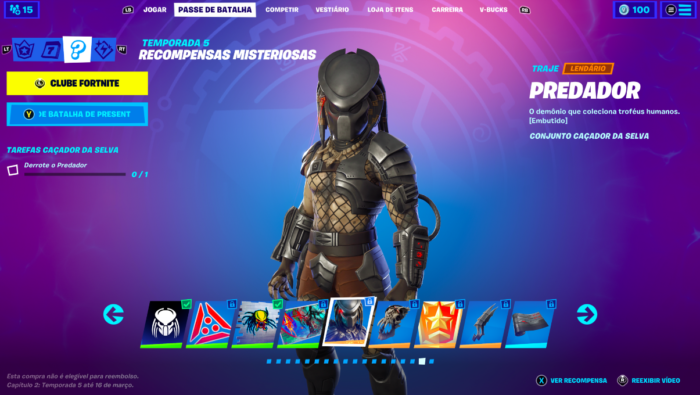 Predator is available in Fortnite ( Image: Reproduction/Felipe Vinha)
The Predator is just one of the possible rewards. It is also possible to rescue sprays, a pickaxe in the form of a hand claw, emotes and a back adornment – ​​a large skull of an alien creature.
To receive the Predator it is necessary to eliminate it. He is a computer-controlled in-game boss and roams inside the Stealth Fortress, north of the Fortnite map. When he is defeated, the player can redeem his appearance.
p>Whoever defeats the character during the match will also receive a special item to be used only in that round: a stealth device, which makes you invisible for some time, with constant recharges.
The other items - pickaxe , adornment, spray, among others - are obtained with different missions, some of them carried out with the Predator's own costume.
More characters in Fortnite
Other characters should also arrive in Fortnite in costume format. Lara Croft is one of the possibilities.
All up to Twitter user Mang0e_, who has been known to leak Fortnite information ahead of time. According to Mang0e_, the game's code reveals that a female character will be released soon.
In addition, the official Tomb Raider Twitter account published messages containing a woman emoji, accompanied by pickaxe emojis and a bow and arrow. In theory, this would be a hint for the inclusion of the heroine in the game – Fortnite has the pickaxe as one of its features.
Another possibility raised by fans is that the Terminator be released in the game, due to the character's weapons that were added, via update. For now, these two additions are just rumors.
With info: Eurogamer.