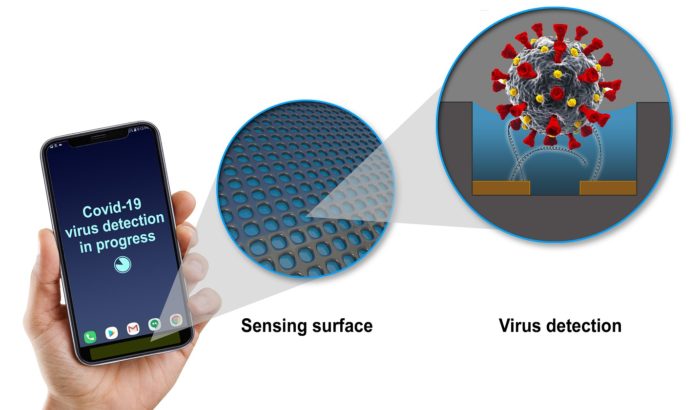 General Electric has released details of the development of a surface for cell phones, with the aim of detecting the presence of the new coronavirus, which causes COVID-19. The company guarantees that the idea follows more or less the same steps as similar sensors already used in several places, such as laboratories.
WhatsApp is used for pre-registration of vaccination against COVID-19 in SP
South Korea to release blockchain-protected COVID-19 vaccination certificate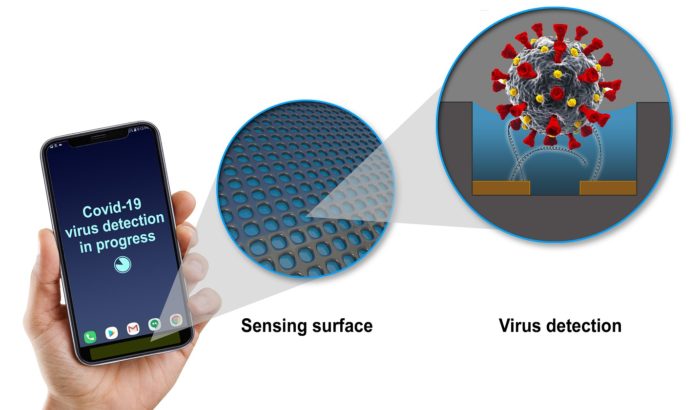 Sensor on a mobile will be able to detect the presence of the COVID-19 virus (Image: disclosure/General Electric)
The announced work intends to miniaturize the component to fit it in a space similar to the one already occupied by the a cell phone. It will be able to identify the presence of particles of the virus that causes COVID-19, whether on the user's finger or even on a smooth surface – such as a table.
"We all come into contact with different surfaces during any given day, from computer screens and desks, to airport kiosks and credit card payment machines in our everyday tasks. While everyone does a great job of keeping these surfaces clean, we want to add an extra layer of security by being able to detect the presence of the virus," says scientist Radislav Potyrailo, one of the project's leaders at GE.
Potyrailo's team is already known for creating this type of device, but for large equipment typically found in laboratories. This work has been done for the last decade, within General Electric itself. The new sensor promises to be smaller than a smartphone's biometric reader.
The scientist guarantees that his creation, even in tiny proportions and fitting into a cell phone, is still capable of maintaining the same level of detection present in large professional instruments that often take up the space of a microwave.
"By providing this exquisite detection capability of a high-end analytical instrument in such a small form factor, we can now consider identification applications being implemented in a sensitive surface, present in a cell phone or device even smaller than it", adds the scientist.
Virus detection does not suffer interference
Radislav Potyrailo also promises that the creation of his team was developed and trained to hunt exactly what you are looking for in the new coronavirus, completely free from interference by other particles present in the sensor.
Even with the feeling of advanced work, the development team at General Electric still needs at least two more years for the creation to leave the laboratory, and then reach people's cell phones.
There is still no prediction of any cell phone brand embracing the idea, but I swear it would really be excited if my smartphone could be a detection tool for COVID-19 on surfaces like the market, ATM or restaurant when I go to get the warm one.
With information: General Electric.